Charleston is a city full of successful adaptive architecture. The American College of the Building Arts campus is in a former Trolley Barn. The DHM Blog has previously profiled the condominiums at 3 Chisolm Street in the old Murray Vocational School. But this isn't the only area school building repurposed into residences. The Crafts House at 67 Legare Street was originally home to a free school for children founded by antebellum Charleston lawyer, poet, and philanthropist, William Crafts (1787-1826). Crafts was a Harvard University graduate who served in both houses of the South Carolina General Assembly.
Crafts was an advocate for free public education, and as such, purchased the property at the corner of the current Queen and Legare Streets for this purpose. He built his first school, designed by Edward C. Jones, in 1859. He called it the Friend Street School after the road's original name. That building burned in a fire during the Civil War in 1861. A new Gothic Revival building designed by architects Abrahams and Seyle replaced it in 1881. This style, featuring buttresses and lancet arches, mimics that of the Cathedral of St. John the Baptist just across Legare Street.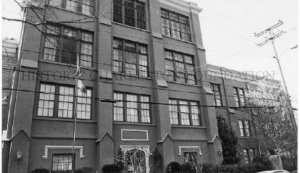 By the turn of the 20th century, the Crafts School accommodated over 1200 students in 14 classrooms. In 1915, a three-story wing (seen on the right side of the accompanying photo) was added by David Hyer, who also designed Buist Academy. The Crafts School served the area's children until the 1970s. After that, the building was used as administrative offices until the mid-1980s, when it was remodeled into condominiums. Today, the Crafts House features 31 one- and two- bedroom units in the heart of Harleston Village. Residents can enjoy views of St. Michael's, St. Phillip's, and St. John's Church steeples while listening to their sonorous chiming of the hours from the nicely landscaped gardens surround the building.