REALTOR® Joyce L. King, ABR

Joyce L. King, a native Charlestonian, has over 30 years of successful real estate sales and marketing experience, coupled with ongoing professional education and training. She is an Accredited Buyer's Representative, having completed additional education and practical experience specified by the National Association of  REALTORS®. All of these skills enable Joyce to offer her customers and clients the highest level of service. Adept in historical properties and their restoration, Joyce has restored several homes and investment properties in the historic district of Charleston, as well as a farmhouse in the ACE Basin area. Over the years, Joyce has been active in and associated with many civic organizations in the Charleston area.
As a mother of two children, she has spent years getting to know the area schools, has experienced the public and private school sectors, and has a firm grasp of the various educational institutions. Joyce's daughter Margaret is a graduate of Tulane University and her son Pearson is a graduate of the University of Vermont. Joyce makes the most of Charleston's picturesque setting and enjoyable weather. When not working, she spends time traveling, working in her gardens, and practicing yoga. She can often be spotted cycling around town and the islands. Joyce L. King is a also regular photographic contributor to Window Boxes of Charleston. See some of the colorful pictures from her travels throughout historic downtown Charleston on Facebook and Instagram.
Joyce has complied handy, one-page guides to help you prepare your home for sale. Download her "Before You List Your House" and "Seller's Pre-Showing" checklists here:
Download Pre-Listing Checklist    Download Pre-Showing Checklist
GET SOCIAL
  Follow Joyce on Instagram
  Follow Joyce on Facebook
  See Joyce's LinkedIn Profile
 Read Joyce's Google Reviews
 Read Joyce's Zillow Reviews
Recent Sales
18 Broad Street 601
South of Broad
104 Marsh Elder Court
Kiawah Island
309 Meeting Street
Downtown Charleston
2515 Laurel Hill Road
Edisto Island
236 Indigo Bay Circle
Mt. Pleasant
17 8th Avenue 17E
Wagener Terrace, Downtown Charleston
Q&A
Hometown: Born and raised in old Mt. Pleasant.
Background before real estate: Worked for W.R. Grace in Washington, DC in the government marketing department.
What drew you to being a REALTOR®: When I was in college, I worked for local real estate developers managing shopping centers.
Professional Affiliations: Accredited Buyer's Representative (ABR), which is a designation for real estate buyer agents who focus on working directly with buyer clients at every stage of the home-buying process.
Hobbies: Gardening, hiking, cycling, yoga, cooking, traveling, stand up paddle boarding, and kayaking.
Favorite holiday: Thanksgiving. I do a fun gathering with friends and family each year, called "The Heartless/Homeless" dinner. All friends without loved ones or a place to spend Thanksgiving are invited.
Best piece of real estate advice: Go with your gut!
Area of expertise: I have been selling real estate for over 27 years and I am always learning. I love working with buyers and sellers that allow me to do my job and work with them to get the end results – closing their home.
JOYCE'S CHOICES
Shop: Out of Hand
Things to do: Yoga and cycling
Place to visit: Plantations
Hidden gem: Can't tell you that or it won't be hidden anymore! 🙂
Local festival/event: Spoleto
Nearby getaway: Pawleys Island
JOYCE'S REVIEWS
"Joyce King was a 15 out of 10! She bent over backward for us. We started looking in Charleston but had little hope of finding what we were looking for in our budget. Joyce was determined to help us realize our dream. When we found our dream home, there was already one more offer on it and they were going to decide that night. Joyce helped convince them to wait until the next afternoon to make a decision, so we could submit our offer.
"Joyce also helped us figure out the best way to position our offer to give us the absolute best chance that the sellers would accept our offer over the other one. She even stayed with us during the remodel process. I cannot begin to count the number of the times when she went above and beyond to make sure that we were able to realize our greatest hopes in this house. We felt like we were working with a real friend rather than a real estate agent."
~Karen Selz
"Joyce is amazing! I am a first time home buyer, and I had no experience with the process. Joyce walked me through every step of the process with a lot of care and attention. I really appreciated that she was a strong negotiator and also didn't push me into anything that didn't fit my budget or needs. I also loved her knowledge of the area and her multiple contacts with contractors, to help me make my new home my own. I would strongly recommend Joyce to anyone looking for a home."
~Connor Blouin, Assistant Sailing Coach, College of Charleston
"Joyce always performs above and beyond. This is the third transaction, one purchase and two sells, she has accomplished in quick order. Listed, shown, and sold in weeks, not months. The last deal was a cash sale, 30 day close, all while I was on vacation. Money's in the bank, as they say! Thank you Joyce!"
~Mark Stephenson
"I responded to a flier Joyce sent to my home in Florida concerning my rental property in Charleston. We had tried to sell it a year earlier and had no luck. After a few phone calls with Joyce, I knew she could handle the task of getting our property sold. Before we even listed it, Joyce helped with getting some minor repairs done and working around our tenants to get in the place and give us an assessment. In a matter of weeks, we had repairs done and Joyce brought us a buyer before the property even hit the market. We were extremely pleased with her professionalism and knowledge, as well as her ability to get things done with various trades. The whole process went extremely well and I would highly recommend Joyce to anyone. She had just met me (solely on the phone) yet worked for us as if we had been friends and clients for years. I've done quite a few real estate transactions over the years, and Joyce was truly one of the best agents I've worked with."
~Dennis Rosa
"Joyce knows the local market really well and has a ton of experience. Happy with the effort that was put into it all and the support I got during the sales process. It's a lot easier to sell a house in a hot market but things clearly slowed in Charleston over the past year and she stuck to it and got the job done. I think that says more than anything. I'd recommend her to others."
~Michael Scarpato
"Joyce is a true professional; her knowledge and expertise are far above any agent that I have worked with."
~ LeeAnn Rawson
"Joyce King is by far the most knowledgeable, competent and easy to work with agent I've ever known. She has been my listing agent for three of my homes in Charleston. She also assisted me purchasing three homes. She is incredibly detail-oriented and doesn't miss a beat. She always has the answers to the most challenging questions or issues and is super patient and friendly. I have used other realtors, but no one compares to Joyce!!! I highly recommend her. You won't be disappointed! Thank you Joyce for everything!"
~Robin H.
"I am not an easy guy to work with and Joyce was the listing broker in regard to the sale of my house. Most listing brokers are lazy and do the bare minimum in actually trying to sell the house. Joyce and her firm provided all marketing material necessary to sell the house quickly including professional photography and video. However, the thing that most impressed me is that she actually found a buyer for the house in addition to handling the listing. I would highly recommend using Joyce. She is a straight shooter, hard worker, and comes with over 30 years of experience in the Charleston real estate market."
~William M. Rogers, Owner/CFO of Ro Sham Beaux
"I consider that Joyce's experience is exactly why I got my home sold so quickly. Everything from market dynamics, price points, photography and marketing were on point. She was able to guide me through the negotiation process and ultimately got me exactly what I wanted for the home. If you want to sell your home, contact Joyce. You won't be disappointed."
~Carl Craig
"We moved from out of state and Joyce's extensive knowledge of the area was very helpful in prioritizing which locations and property features were most important to us. From virtual showings to carving out time to show us around town when we visited the area, Joyce always made us feel like her most important client. She was always quick to reply to email or text. Joyce made herself available through the entire purchase process from the initial virtual showings, though inspections and even post-closing. We would recommend her to any buyer."
~Molly L.
"Joyce was amazing as she helped us buying our first home in West Ashley. Amazing service and very knowledgeable recommendations helped us find and purchase a great home for a great price. Went above and beyond. Kept clear, concise, and timely communication through the whole process. Very professional; highly recommend!"
~Andrew Stephenson
"Joyce King has demonstrated an amazing knowledge of local sub-markets in the greater Charleston area. As a lifetime resident of Charleston, she has an extensive network of contacts that benefit any buyer or seller of real property. She is hard worker, and pleasure to work with. We highly recommend her."
~ Lowen Hankin
"Joyce is a thorough and charismatic agent. She worked with us to find our dream house. She followed up every step of the process, and gave us personal attention. She really went above and beyond to help ease this stressful process. She KNOWS the Charleston market and her insight and knowledge helped us get the house we wanted at the price we could afford! She is super responsive, an excellent negotiator, and helped us keep our cool throughout. What a pleasure it was working with her! She made home buying fun!
She also sold my James Island home five years ago in a down market. She is VERY good at what she does. So grateful!"
~ Patrick McClintock Martin
"Joyce could not have been better to work with. She got us under contract in four days with a full price offer and helped us navigate the sales process with ease. Thank you so much Joyce!
~ James Trent
"Joyce is an outstanding real estate agent. She helped me find a property exactly suited to my needs. Joyce listens to her clients and is skilled in providing top notch service. I consider her a business partner and my 'go to' agent for Charleston real estate purchases."
~ Chris Disharoon
"Joyce King is the consummate real estate professional. She is extremely knowledgeable, attentive to detail and focused on customer service. I would welcome the opportunity to work with her."
~ Tom Archer
"Joyce King made the selling of my 'unique' property painless and easy… after more than a year with a discount real estate company never having gotten an offer, Joyce took my property and marketed it to the appropriate audience and with in weeks we had multiple offers and closed at asking price. Joyce took all the stress of selling a home and got the best buyer and price we could have ever wanted. Thanks Joyce!!!
When it came time to purchase (because Joyce sold our home so fast) I knew who would get me the exact house we were looking for, I called Joyce King. We had very specific desires and wants in our next home and Joyce showed us all the best Charleston had to offer!! Joyce never got down even after having to look at 100 homes she wasn't satisfied until we were satisfied. I can not recommend her enough!! We now have a new friend of the family as my kids love Ms. Joyce!!"
~ Tiffany Milroy Jimerson
"Joyce King has continued to deliver exceptional service for our family. We have relied on Joyce over the past 20+ years for all of our residential needs to include inquiries and any subsequent purchases. Her knowledge and command of the Charleston market make her a collaborative partner when deciding on a real estate purchase. We highly recommend Joyce King."
~ David and Cornelia Graham
"Joyce King was excellent in finding perfect 2nd home for my family in downtown Charleston. Her market knowledge and attention to detail and our needs were fantastic. So glad to be part of Charleston for many years to come."
~ Doug King
"I was offered a position in Charleston SC and I had only a couple of weeks to find a place to rent and move. I found Ms. King's contact information under Disher, Hamrick & Myers on the internet. I had never met her before but decided to take a chance. I contacted her by email and told her of my situation. Within two hours she sent me several listings and asked when I would like to come down to view them. I met her that Wednesday and we looked at several places. She then took me to a house in Mount Pleasant that was the perfect location. It put me close to Charleston and close to work. And because of her contacts I was able to reach an agreement on the house that day. I moved in the next week. I found Ms. King to be very knowledgeable of the Charleston area, professional, and a pleasure to work with. But the thing that impressed me the most was she did this as a service for me. This is very rare in this day and time for someone to spend their time and not expect something in return. I would highly recommend her if you are looking for any real estate in or around Charleston."
~ Chuck Hudson
"Not only did Joyce sell my home downtown in quick easy fashion but she hung in there on the purchase of my new home on Edisto. The banking process is difficult and only to be navigated by a professional and Joyce made it all happen with patience, answers and a great ability to negotiate a deal that was good for both parties. Thank you Joyce."
~ Mark Stephenson
"Thank you so much for all your help on the sale. You went above and beyond to ensure both buyer and seller were happy. Your clients are certainly very lucky to have you on their side!"
~Jennifer, McNair Attorneys
"Having sold/bought 4 different properties in the Charleston area with Joyce, I can't say enough about her level of expertise. Not only does she know more than it seems possible to know about the Charleston real estate scene, she also draws on her strong (uncanny! flawless!) instincts and intuition. She's never wrong–she would admit it if she were, but it just NEVER happens.
Anyone who has bought or sold anything knows the many, many micro moments that go into closing on a home–so many negotiations and question marks in a compressed period of time. It's easy to feel overwhelmed by all of the information. This is THE REASON to work with Joyce. She absolutely knows what to do in every situation. Her years of experience and her natural people-skills make things that seem hard entirely manageable. Joyce has a great sense of humor, as well, which makes the whole process fun instead of a burden.
Finally, Joyce is extremely trust-worthy. She's loyal, she listens, and she's motivated by her love and talent for her career. She's always thinking about the long game and you never have the feeling that she's impatient or trying to press an agenda for her own gain. That said, she can also make things happen….and fast! She's right on top of every correspondence. I wonder if she ever sleeps?
Obviously, I can't recommend her highly enough."
~Meg Scott-Copses, Ph.D. College of Charleston
"Joyce did a great job selling our country home quickly when we thought it would take much longer to sell. She was great at showing all the perks of the property and the neighborhood."
~Ruby & Mark Nash, UPakWeShip.com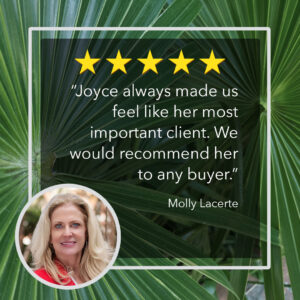 "We moved from out of state and Joyce's extensive knowledge of the area was very helpful in prioritizing which locations and property features were most important to us. From virtual showings to carving out time to show us around town when we visited the area, Joyce always made us feel like her most important client. She was always quick to reply to email or text. Joyce made herself available through the entire purchase process from the initial virtual showings, though inspections and even post-closing. We would recommend her to any buyer."
~Molly Lacerte