As the new year begins and we transition out of the whirlwind of 2020, you may find that a new home is on the horizon for you and your family. After saving on expenses throughout the past year and redefining your needs while being quarantined for months, this may even be the perfect time to begin the process.
In 2020, industry experts offered a range of advice about what to buy, how to buy, and when is the best time. While that can be helpful to prospective buyers like yourself, that's only half of the journey. In addition to buying, you need to understand how to sell your Charleston home during a pandemic as well. With buyer's needs changing throughout the past year, it's important to stay up-to-date on what will and will not sell in today's market.
1. PRIORITIZE VIRTUAL CAPABILITIES
Online marketing is the safest way to protect yourself and others from the coronavirus. Photos that have been professionally shot and edited, virtual staging, and video tours will allow you to effectively showcase your home and all of its valuable features without putting anyone at risk. To ensure your home looks its best in photos, you should always consider professional staging. This creates a comfortable appearance in your home that allows each prospective buyer to imagine themselves in the space.
To avoid interaction all together, many sellers are instead choosing virtual staging. This option allows you to fully furnish and decorate your home (inside and out!) for less time and money. You can also avoid on-going rental costs while still showcasing the value of your home to every buyer. Disher, Hamrick and Myers was the first in the Charleston market to offer in-house virtual staging.
2. CONSIDER THE BUYER
Before you sell, you should deeply consider the type of buyer that would be interested in your home. Ideally, this should align with those shopping in the local housing market. If you find that it doesn't, it may be time to make some changes to your home in order to appeal to the masses.
Given the limitations that the pandemic has brought on, many prospective buyers have begun to prioritize particular spaces that they didn't in the past. For example, home offices and dining rooms have become more valuable. If you have a formal dining room in your house that you have been using as a playroom or tv room, return it to its original purpose. Likewise, if you have an extra bedroom or bonus room, adding a simple desk and chair turns it into a prized home office. Large laundry rooms, expansive outdoor patios, and storage spaces are all sought after this year, with at least 85% of buyers requesting these features in their new home.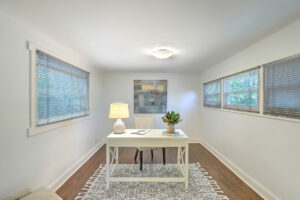 With so many prospective buyers spending more time at home, you want to highlight or accommodate the advantages your home has. You should take the time to spruce up these areas to add more value before you sell. While it may take added time or funds to renovate or upgrade these features, it will produce a greater return on your investment once you sell.
3. INCLUDE PEACE OF MIND
Given the financial strain that many have faced throughout 2020, it may be wise to include a home warranty with the purchase of your home to entice buyers further. While the buyer will still have to purchase homeowners insurance to protect themselves and their property, a home warranty will ease any concerns over your appliances and home systems. With a simple transfer in the contract, the buyer will be able to pay a low deductible for service and maintenance.
4. USE CHARLESTON INSPIRATION
The Charleston area has its own unique architectural styles. When selling, you should certainly take advantage of that. Most notably, the charm of historic homes is likely what buyers are looking for in this area. Even if you have newer construction, you can add accents and features to your home that are inspired by the history of Charleston.
For example, expanding a front porch or balcony will not only enhance the style of your home to match those throughout the city, but also offer up more outdoor space for buyers, should quarantines extend well into 2021. For smaller changes, you can add window shutters, iron accents, or pastel paint colors to the outside of your home to mimic the row houses on East Bay Street. Inside, plantation shutters, crown and decorative moldings, columns, traditional mantles, and other architectural details can make a big impact. Whether you're in the heart of the city or a ways away, you can create Charleston style in your home before you sell.
5. EXPECT SOME CHANGES
The most important thing to remember when selling your Charleston home during a pandemic is that it will likely be a different process than in "normal" times. You'll need to provide added flexibility for in-person showings, depending on the comfort level of potential buyers and their agents.
Home appraisals or inspections may take some added time, given the need to comply with social distancing regulations. More transactions will take place virtually online, rather than in-person. You may still run into some hesitant house hunters, given the uncertainty of the economy. However, rest assured that there have been countless homes sold during the pandemic. With a little creativity and preparation – and help from an experienced local real estate agent, yours can too!