Row houses are a distinctive part of the architecture of many of the oldest cities across the United States. The style first appeared in Europe at the Place des Vosges in Paris, early in the 17th century, concurrent with the founding of America. It followed settlers across the Atlantic to the colonies, where early cities were founded near the water or on peninsulas. These connected homes make the most of limited land. Accordingly, they are prominent in port cities such as Boston, New York, Philadelphia, and Charleston.
WHAT IS A ROW HOUSE?
A row house is a single-family dwelling of at least 2 stories that shares one or both walls and roofline with a neighbor. While this definition also applies to townhouses, they differ in that row houses are very similar in architectural design and the facades are aligned. Townhouses, on the other hand, can be staggered from the street and may differ vastly in style.
One well-known example of a row house is a New York brownstone, named after the reddish-brown color of sandstone on the exterior. Throughout Europe, row houses are called terraced houses. But across the US South, "row house" is a more generic term referring to any long contiguous group of residences. While there are a few brownstones in Charleston, row houses are more common along our historic streets.
CHARLESTON'S ROW HOUSES
A number of streets in downtown Charleston are adorned with beautiful row houses that date to the city's earliest residents. Many of Charleston's row houses have balconies with elaborate iron railings.
One such row has earned worldly distinction: Rainbow Row. This stretch of 13 homes is located on East Bay Street, just South of Broad. The collection of different pastel colors used on each individual residence led Robert Ripley of "Believe It Ot Not" fame to coin the term Rainbow Row.
While Rainbow Row is one of the most photographed areas in downtown Charleston, it has not always been that way. The homes were built in the middle of the 18th century as modest residences. Merchants working Charleston Harbor could conduct business downstairs and live upstairs.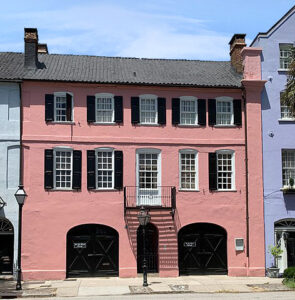 After the Civil War, the area was so rundown it was deemed a slum and stayed in disrepair for almost a century. Then in 1931, Judge Lionel Legge and his wife Dorothy purchased a block of the homes. It was Dorothy's idea to paint the homes in colorful pastels, to reflect the city's Colonial Caribbean affinity. She painted their primary residence at 99-101 East Bay Street pink.
Eventually, the entire row was repainted in various pastels. There is a longstanding legend that the homes were painted different colors so that drunken sailors could find their way to the proper front door. However, since the homes receive a generous amount of sunshine, it is more likely Legge's motivation was to make the houses cooler in the hot South Carolina summers.
Whatever the original reason, these charming Charleston row houses have captivated the imagination and love of locals and tourists alike.