If you are looking to relocate to Charleston, you are not alone. Young professionals, couples, and families alike are all flocking to the picturesque South Carolina Lowcountry. Our weather, beaches, job opportunities, and historic charm all draw new residents to Charleston. If you are among them, here are some important considerations when searching for your new home.
DISCOVER CHARLESTON'S NEIGHBORHOODS
The first thing you'll want to do is narrow your search by exploring Charleston's neighborhoods and surrounding areas. DHM provides a convenient Neighborhood Guide to help you determine which part of town is right for you. Each location offers its own perks. For example, if you are looking for a historic home, South of Broad is a beautiful, walkable area rich in history. If you prefer a bungalow in an up-and-coming area, North Central may be the right fit. If you want to live on the water or close to the beach, then you are going to want to check out Folly Beach or one of our other coastal islands. Is it important to you to be near a park, a bike path, or a recreational activity? What community amenities does your family want? Charleston has something to offer everyone. So prioritize your lifestyle wishes, then tour the town to find your best fit.
RESEARCH THE COST OF LIVING
The local cost of living is important to consider when moving to Charleston. While the state of South Carolina tends to be less expensive than the national average, Charleston tends to be a bit higher. This is especially true when it comes to housing. Home prices vary greatly depending on the part of town you choose. In order to better determine what you can afford, you'll want to get preapproved for your mortgage. Completing this process will help you focus your search to areas and homes that fit within your budget. In addition, you'll need to account for costs that may not be necessary where you live now — such as flood, hurricane, and earthquake insurance, as well as pest control.
WORK WITH AN EXPERIENCED LOCAL REALTOR®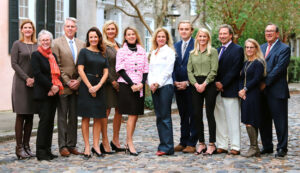 To successfully navigate the busy Charleston market, you'll want to seek the advice of an experienced local real estate agent. A professional that knows Charleston inside and out will help you find your perfect home with confidence. Especially in a hot seller's market, working with a local expert is a must. Your Realtor® will present your offer quickly and negotiate on your behalf in the case of a bidding war.
CONNECT WITH LOCAL COMMUNITY GROUPS
A great and often overlooked way to learn about homes in Charleston is to reach out to local social groups, clubs, and organizations. Like-minded members can tell you firsthand what it is like to live in a particular neighborhood. They can also provide personal insights or make suggestions that you might not be able to find otherwise. As an added bonus, once you get here, you'll already have friends and a social support network to help you quickly become part of the community.
CONSIDER EMPLOYMENT AND EDUCATION
Don't forget to think about your new home's proximity to your job, employment opportunities, and schools. How much of a commute are you willing to trade for outdoor space in the suburbs as opposed to a downtown condo? Also, if you are looking to further your education or have children, be sure to research Charleston's many great public and private schools, colleges, and universities. You may even want to consider investing in a home or condo for student housing.
When looking for your ideal home in one of America's most popular cities, it's essential to do your homework. Charleston has so much to offer, there truly is something for everyone. From historic downtown to the beaches, you're sure to find your dream home. And DHM is here for you every step of the journey. To get started, give us a call at 843.577.4115 or click here: