Are you considering investing in a second home? If so, Charleston, SC should be at the top of your list. This charming city is known for its rich history, beautiful beaches, and vibrant culture. The Holy City has something for everyone, from the stunning natural landscapes to the thriving arts scene. Let's countdown the top 10 reasons to own a second home in Charleston.
No. 1:  RICH HISTORY & ARCHITECTURE
Charleston is renowned for its well-preserved historic district, with cobblestone streets, antebellum houses, and charming gardens. The city's architectural diversity, from historic mansions to modern marvels, is truly captivating. Owning a second home here means immersing yourself in the city's fascinating history and unique architecture. Stroll along Rainbow Row, a series of colorful historic row houses. Then visit iconic landmarks like Fort Sumter and the Battery to appreciate their historical significance.
As a local, don't forget to seek out the hidden gems of the city's historic district. These include cobblestone streets, hidden courtyards, secret gardens, and tucked-away alleyways. Experience a sense of discovery as you wander these lesser-known spots.
No. 2:  BEAUTIFUL BEACHES
Imagine waking to the sound of waves crashing against the shore and stepping outside to enjoy miles of sandy beach. The Lowcountry provides access to several breathtaking beaches, including the friendly Isle of Palms, funky Folly Beach, and exclusive Kiawah. Having a second property here allows you to indulge in beachfront living whenever you desire, whether for a weekend getaway or an extended vacation.
No. 3:  CULINARY DELIGHTS
Food lovers will be delighted by the city's thriving culinary scene, which offers a wide range of delectable dishes and a unique farm-to-table experience. Charleston chefs pride themselves on locally sourced ingredients and a commitment to sustainable and organic practices.
Be sure to explore the vibrant farmers' markets that dot the area, where you can find fresh produce, artisanal cheeses, and homemade preserves. Visiting these markets allows you to connect with local farmers, taste seasonal delights, and gain a deeper appreciation for the farm-to-table movement. Whether exploring the bustling Charleston Farmers Market in Marion Square downtown, or the Sunday Brunch Farmers Market at the Pour House on James Island, you'll discover a wealth of flavors and a true celebration of Lowcountry foodways.
No. 4:  FESTIVALS & CULTURAL EVENTS
Getting bored in Charleston is nearly impossible, as the city hosts yearly festivals and events. Something exciting always happens, from the renowned Spoleto Festival that showcases world-class performing arts, to the Charleston Wine + Food Festival that samples the region's culinary excellence. Other festivals celebrate Caribbean or Greek heritage, jazz, antiques, and wildlife. In the spring and fall, you have the opportunity to glimpse inside historic homes and support local historic preservation groups. Owning a second home allows you to immerse yourself in the city's cultural offerings fully.
No. 5:  VIBRANT ARTS & ENTERTAINMENT SCENE
Charleston boasts a vibrant arts and entertainment scene with numerous art galleries, theatres, and music venues offering diverse cultural experiences. From theatrical productions, to live musical performances, to local artist exhibitions, you're bound to find something to satisfy every artistic inclination. Owning a second home here means having easy access to a thriving arts community and the opportunity to immerse yourself in the city's creative energy.
No. 6:  OUTDOOR RECREATION
Whether you enjoy fishing, boating, kayaking, biking, or simply exploring scenic trailways, there are many ways to enjoy the outdoors in Charleston. With abundant beaches, parks, gardens, and waterways, you'll never run out of places to connect with nature or embark on exciting outdoor adventures.
Explore the breathtaking gardens and plantations throughout the region to combine nature with history. See the world-famous Magnolia Plantation and Gardens with its stunning azaleas and camellias. Then visit the Middleton Place with its majestic oak trees and vibrant floral displays. These gardens provide a tranquil retreat where you can immerse yourself in the beauty of nature, while learning about the city's past.
Enjoy a stroll through meticulously manicured landscapes, take in the fragrant blooms, and embrace the serenity of these enchanting spaces. Whether you're a nature lover, an avid hiker, or simply seeking a peaceful escape, a top reason to own a second home in Charleston is the abundance of outdoor wonders.
No. 7:  THRIVING ECONOMY
Charleston's economy is thriving, making it an ideal location for investment. The city has experienced growth in various sectors, including manufacturing, technology, tourism, healthcare, logistics, and aerospace engineering. The area's housing market also remains strong. Owning a property here allows you to enjoy the city's amenities and offers the potential for a sound financial investment.
No. 8:  SOUTHERN HOSPITALITY
The Holy City is known for its warm and welcoming atmosphere, epitomizing the true essence of Southern hospitality. Friendly locals, charming neighborhoods, and tight-knit communities make this a place where you'll feel right at home.
No. 9:  EDUCATIONAL OPPORTUNITIES
Charleston is home to several prestigious institutions of higher learning, including the College of Charleston and the Medical University of South Carolina. There are also many excellent secondary schools (private, public, and charter), including the #2 nationally-ranked Academic Magnet High School. If you have children or are considering furthering your education, buying a property here provides access to excellent academic resources and various educational opportunities. Purchasing a home for your student, in place of a dormitory or renting, can also be a sound financial decision.
No. 10:  PROXIMITY TO OTHER DESTINATIONS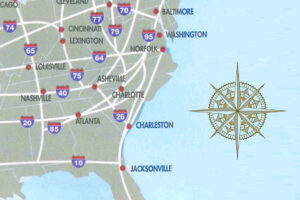 Charleston's location makes it an ideal base for exploring nearby destinations. From the charming coastal towns of Hilton Head Island and Beaufort to the historic city of Savannah, Georgia, there's no shortage of places to visit within a reasonable drive. Therefore, you can easily embark on exciting day trips and discover the beauty of the surrounding areas.
ADVICE FOR OWNING A SECOND HOME IN CHARLESTON
Take precautions while away from both your primary and secondary homes. First, be sure to install a security system in each to discourage break-ins. There are many smart home devices that can help your house look lived-in even when you are not there. Second, consider renting storage to keep your belongings safe while spending time in Charleston. This way, you can have peace of mind knowing your possessions are well-protected until you return.
CONCLUSION
As you can see, you've got plenty of compelling reasons to own a second home in Charleston, from the stunning beaches and rich history to the thriving culture and warm hospitality. Whether seeking a relaxing beachfront retreat or a vibrant downtown with endless opportunities, Charleston has it all. With its unique charm and abundant offerings, Charleston, SC is an ideal destination for those looking to invest in a second home.
Disher, Hamrick & Myers has been representing  buyers for over 40 years and we can help you through the process of finding your perfect second home. Give us a call at 843.577.4115 or visit our website to see our current listings and search the MLS.