Looking for a trendy and relatively affordable home in Charleston, SC? Be sure to consider Upper King Street. With almost every type of business — from hip tech firms, to interior designers, to architects, to collaborative work spaces — in this neighborhood, many residents take advantage of the opportunity to walk to work. This area is a great place to stay when visiting, as hotels aren't as expensive as in other parts of the historic district. It's also an ideal home base from which to explore the Charleston area.
King Street crosses through the middle of the Charleston peninsula and is divided into three zones: Lower King is the Antiques District, Middle King has the Fashion District, and Upper King is known as the Design District. It runs north of Calhoun Street from Marion Square to the Septima P. Clark Expressway, more commonly called the Crosstown. The neighborhood features new construction as well as restored historic homes and those ready for renovation. It also boasts some of the city's latest and trendiest restaurants along with hotels, art galleries, fantastic shopping, flourishing businesses, and a lively nightlife. With its proximity to the College of Charleston, students and a younger crowd frequent it during the school year.
Charlestonians love this neighborhood for its eclectic vibe, easy access, and cultural value. Are you a foodie? Look no further: Upper King boasts some the latest and greatest Charleston restaurants. On Saturdays, visitors and locals alike shop the Marion Square Farmers Market for fresh food and local treats. You can spend your days window shopping along the picturesque avenue, then enjoy your nights in the latest hot spots.
THE HISTORY OF UPPER KING STREET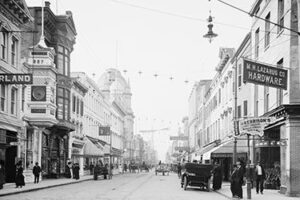 At more than 200 years old, King Street is the second most historically and architecturally significant street in downtown Charleston, after Meeting Street. It was named for King Charles II of England and was a main route in the early city of Charles Towne. Many side streets were named after prominent families, including Ann, John, and Mary Wragg. In the mid-19th and mid-20th centuries, King Street bustled as a retail corridor. Accordingly, many of the buildings are commercial, with residential spaces on the upper floors. Today, Upper King Street continues to be home to mostly local businesses and remains a work-where-you-live neighborhood.
The story of Upper King Street closely parallels that of downtown Charleston as a whole. After the Civil War, it fell into disrepair. But during the 1950s, it experienced a regrowth. The shopping district was very popular, perhaps too popular, leading to traffic congestion. As a result, in 1950, King turned into a one-way street. This sped up traffic, but hurt local businesses, as the road became more of a thoroughfare than a place to stop and shop. The general move to the suburbs during this time also hurt in-town businesses, and buildings along Upper King fell into disrepair. Like elsewhere in the city, Hurricane Hugo in 1989 destroyed many of the structures that were left or forced the remaining businesses to close. A silver lining of the storm is that it brought awareness to the need to revitalize the area, along with insurance money to make that happen.
REVITALIZATION
In his first mayoral campaign, Mayor Joe Riley "promised to reverse the flow of business from downtown Charleston to the suburban shopping malls by revitalizing the central business district." He spurred the revival of King Street throughout the decade of the 1980s, beginning with the construction of the Charleston Place Hotel. He also prompted the city to spend almost $50,000 to rebuild the c.1913 Bluestein's clothing store at 494 King Street, which had been gutted by fire in 1987.
Other significant steps in the revitalization of Upper King into the lively hub it is today include:
1991: the Charleston Visitor Center opened in an old train station, bringing tourists to this side of town.
2001: the city renovated Marion Square for public use.
1994: Upper King Street converted back into to two-way road.
2005-2007: a streetscape project buried power lines, upgraded communication and gas lines, made stormwater improvements, and added bluestone sidewalks with granite curbs.
DINING & ENTERTAINMENT
All of these enhancements paved the way for new businesses to venture into Upper King Street. The relatively inexpensive rent, compared to other more established retail venues, was also an incentive. The transformation into a dining and entertainment district began in 2005 with the opening of two popular restaurants, Chai's and Reval. In 2009, fine dining came to Upper King with Halls Chophouse, and the city's nightlife began to move from the Market to Upper King. Since then, dozens of the city's trendiest restaurants have made their home here, including:
O-Ku
Macintosh
Cocktail Club
39 Rue de Jean
Stars with its rooftop bar
Barsa
Rarebit
Hutson Alley
Click here for a full guide to Upper King restaurants and bars, including links to their menus and reservations.
UPPER KING ACTIVITIES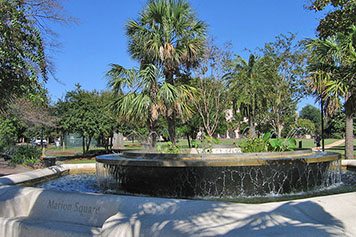 Be sure also to explore the retail shops and art galleries along King Street. While other areas of town have become populated by national and regional chains, Upper King remains home to mostly local businesses. In addition to shopping and dining, Upper King has plenty of landmarks to entertain you.
Contact Disher, Hamrick, & Myers Real Estate at 843.577.4115 for homes for sale in the Upper King Design District. Start enjoying everything this neighborhood has to offer today!
View All Homes For Sale on Upper King